MMA (Mixed Martial Arts) at
Tiger

Muay Thai & MMA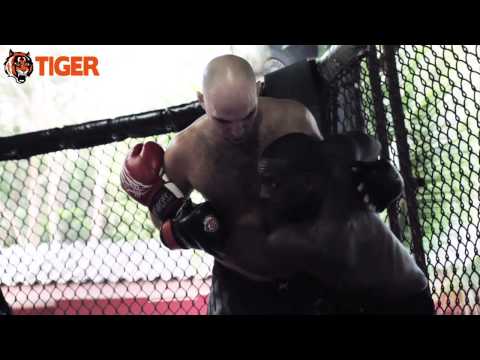 MMA/Wrestling Class Video Highlight
"Roger's legendary MMA career and wrestling prowess allow him to offer helpful technical and strategic advice to any student, whether they are a beginner or professional."
The Mixed Martial Arts Program is headed by Instructor Roger "El Matador" Huerta, a UFC standout with big fight-resumes. With over 30 fights, and with sporting histories in American Wrestling, Roger has experienced the rigors of training, at every level. Once a beginner, and now a high-level professional, Roger's insight into the "journey" of developing an MMA skill-set is valuable to students from any background. Join Roger through the week, at our 4pm classes. See below for class descriptions and scheduling.
MMA Technique – Tuesday to Thursday
The MMA Technique Class is placed mid-week, and for good reason. This class offers a break from the physical beating an athlete's body may take over the course of the week. This class offers a chance to think about MMA techniques, and work on them in a less-than-intense fashion. We cover all ranges of MMA combat, and address the different strategies that athletes may employ.
We ask questions like, "What would a boxer do in this scenario?", "What would a BJJ guy be looking to do there?", and "How can we keep the fight where I want it?". Bring your brain, and leave some of the brawn at home, for this class. Beginners are encouraged to attend.
MMA Sparring – Mondays & Fridays
Our sparring classes are open to all students, but instructors may exercise discretion in advising against participation on a day. Note, we do not teach techniques during this class. Students go through a proper warm-up routine, before slowly working into medium and high-speed sparring (Striking, takedowns, and grappling). Students without a fair understanding of at least one range of combat (Striking, Wrestling, or Grappling) may be discouraged from participation.
You must have a martial art to mix! We have a great safety record in our classes, and that is due to having responsible instructors but also responsible students. It would not be responsible for a beginner to volunteer to spar a professional fighter, and just assuming that you'll "be ok". Nor should any pro's be picking on beginner students, asking them to spar and then knocking their heads around! Do your part, be honest, and come to gain some high-speed experience.
MMA/Wrestling Training Schedule
| Class | Monday | Tuesday | Wednesday | Thursday | Friday | Saturday |
| --- | --- | --- | --- | --- | --- | --- |
| Striking for MMA | | 1:00 p.m. - 2:00 p.m. | 1:00 p.m. - 2:00 p.m. | 1:00 p.m. - 2:00 p.m. | | |
| MMA | 4:00 p.m. - 5:30 p.m. | 4:00 p.m. - 5:30 p.m. | 4:00 p.m. - 5:30 p.m. | 4:00 p.m. - 5:30 p.m. | 4:00 p.m. - 5:30 p.m. | |
For a complete schedule of all our classes go
here
.