Tiger Muay Thai & MMA Proudly Announces the 2014 Fight Team Tryouts.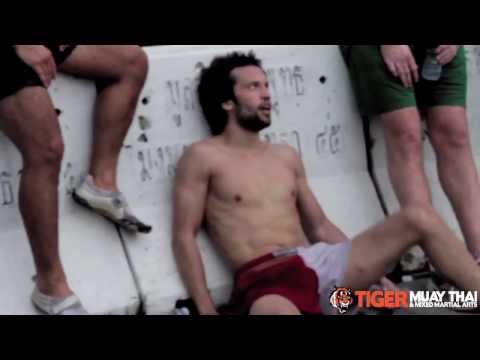 Calling all fighters, how to apply!
"Do you wanna live, train and fight in and out of Thailand for Tiger Muay Thai?"
Tiger Muay Thai & MMA (TMT) is South East Asia's largest training facility. We have operated in Phuket, Thailand for the last ten years, the camp has hosted a plethora of combat sports competitors from every discipline, and our guest-list includes multiple UFC Champions.
Widely acclaimed for our traditional, and highly successful, Muay Thai Program; in 2013, and under the guidance of UFC-acclaimed coaches Roger Huerta and Brian Ebersole, TMT offered applicants from across the globe the opportunity to win one of five full-scholarships to train and compete as members of their MMA team.
A full-scholarship includes:
Training at Tiger Muay Thai & MMA
2,500 Baht Housing Stipend
TMT Marketing Dept. efforts
Fighter's Meal Plan
The 2013 Tryouts were filmed by Stu Cooper Films, and posted on YouTube, as a 4-part series , the videos garnered over 176,000 views, with Part 5 coming soon; which gives an overview of the team's largely successful 2013 campaign, where they amassed an MMA record of 12 wins, 2 losses, one draw, and one no-contest.
Now TMT is ready to offer 2014 scholarships to their Phuket training facility. There will be FIVE full-training scholarships, offered by the MMA Program. And there will also be TWO full-training scholarships offered by the Muay Thai Program. Seven scholarships in total.
Tryouts will be held on April 10th, 11th, and 12th. Invited athletes should be prepared to arrive in Phuket on or before April 9th, as well as remain in Phuket until April 19th.
TMT will not manage fighters. TMT *may* be able to assist in booking MMA bouts, but can make no guarantees. We will, however, be happy to consult athletes, their families, and their current coaches; in order to help an athlete make solid decisions in regards to training & competition.
Muay Thai fights in Phuket (and throughout Thailand) are plentiful, and our 2013 MMA athletes also competed in numerous Thai Bouts, with the full support of the MMA Coaching Staff.
To apply: copy and paste the below questionnaire in an email:
Check out Stuart Coopers mini series from the 2013 tryouts