2Home Resort
Accommodation Type: Standard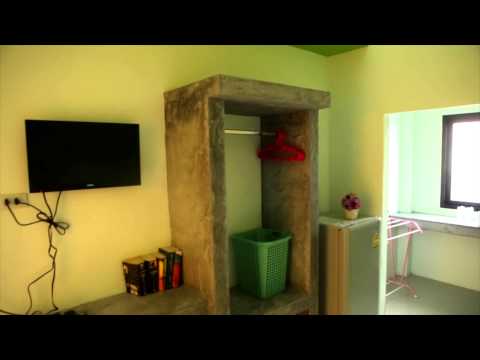 Click to Play Accommodation Video Tour
2Home resort is located in Chalong. The resort is tucked back on a quiet side road off the busy street of Soi Ta-Eiad. It's in a quiet and peaceful setting surrounded by a plush jungle. It's about a 10 minute walk to Tiger Muay Thai camp.
2Home is comprised of 25 rooms, with swimming pool. The resort blends a wide range of activities and amenities with friendly and relaxing atmosphere.
Our garden view area is located behind reception, it consists of 25 ground level and 5 upper level rooms surrounding a small garden with a fish pond and patio seating with tables, only a very short distance from the pool area, each that have a separate living area with a 4 seater sofa and an extra air conditioning unit.
All rooms have their own en-suite bathroom, arm chair, television with cable TV, fridge, towels, clothes drying rack, all rooms have high speed wi-fi, the garden view area is only accessible through reception after 8pm and is secured with a keypad locked gate and covered by CCTV.
Room Rates (1 month = 30 days)
| | | | | |
| --- | --- | --- | --- | --- |
| Daily | 1 Week | 1 Month | 2 Months | 3 months |
| 1,000 THB | 6,500 THB | 16,000 THB | 32,000 THB | 48,000 THB |
Please note that 7% VAT is not included in the prices listed.
If you are interested in staying in the 2Home Resort while you train at Tiger Muay Thai please contact our bookings manager by email.
2Home Resort Photo Gallery